"Words are a pretext. It is the inner bond that draws one person to another, not words." …Rumi
***
I am no one to question the cherished wisdom of Rumi, and do not do so now, but I do take pleasure in the writing and reading of words that inspire, and offer them here as quotations.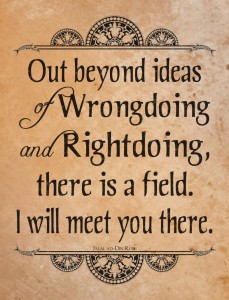 Words, while they can be the sharpest of swords, and the gentlest of touches, cannot fulfill the yearnings of the soul. One cannot say "I love you", and expect that these words alone will convey undying love for another person. True love requires action, as does kindness, and what better way to celebrate action than through the beauty of the written word.
Allow these words to simmer in the depths of your soul. You will find yourself powerless to restrain the love that rises from their passionate intention. Use this passion to ignite your own, to follow your heart, and to find your joy.
Be the reason for the writing of words.
***
Follow this path to Quotable Kindness, a collection of kindness quotes and printable kindness cards.